Billing itself as a "Next Generation Social Network", MeWe is designed to present an alternative social platform where users can roam freely without having the fear of data theft or censorship.
Are you afraid of sharing much about your life on social media platforms like facebook and instagram as your data might be taken without your consent and sold to another party? Well MeWe takes care of this fear of yours and saves you from social media manipulation which is uncontrolled and unreported.
MeWe is a growing social media platform where the users can trust the credibility of the site which keeps the privacy of its users as its first priority. It is an open platform for every user who can freely share their thoughts without having this concern of getting censored.
If you wonder what is MeWe, this article elaborates the growing popularity of this much needed social media platform and evaluates if it is able to outcast facebook in near future.
What is MeWe?
Like mainstream social media sites, MeWe is a social media service whose distinct feature is that it is ad-free and protects the data of users. Like other social media platforms, MeWe allows its users to post text and images on their timeline, make and join groups, share other member's content and send disappearing messages and to take part in private or group chats.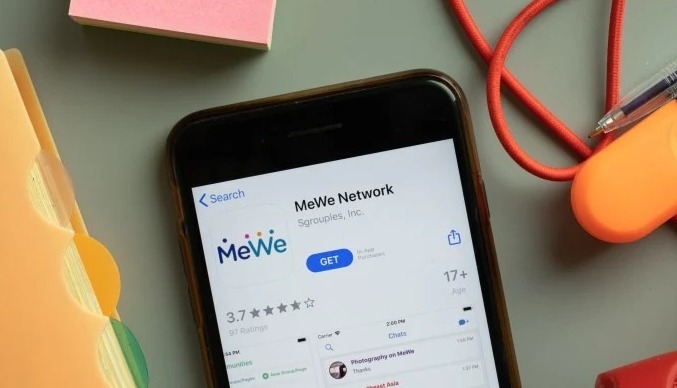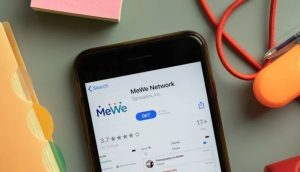 The site can be accessed by the app which is available for both iPhone and Android devices or via any browser. It is similar in layout, appearance and functionality with Facebook but offers some additional features which are becoming the reason for its growing popularity especially among youth. Following are some additional features of the service:
The content is shared based on chronological order because the platform does not use newsfeed algorithms as other social media sites use.
While sharing any post on their wall, users have the option to control who can see their individual posts. It has three options: "my contacts", "Close friends", "Public".
Users can use the chat function to start chatting with their contacts and with the people who are in mutual groups; however a user can adjust the setting by restricting the chat only with his contacts. The chat feature allows the user to send text, images, links and voice notes.
In case one does not want unwanted contact they can block or report the users from the chat or through the user's profile.
The platform overly focuses on data privacy and claims that the data is safe and it is not sold or shared.
More private and user friendly
The app is available in 20 languages which broadens the span of its use worldwide. 50% of its users are from North America, 26% from Asia, 23% from Europe and 1% from Australia. The company is working on expanding its use around the world.
How to sign up for MeWe?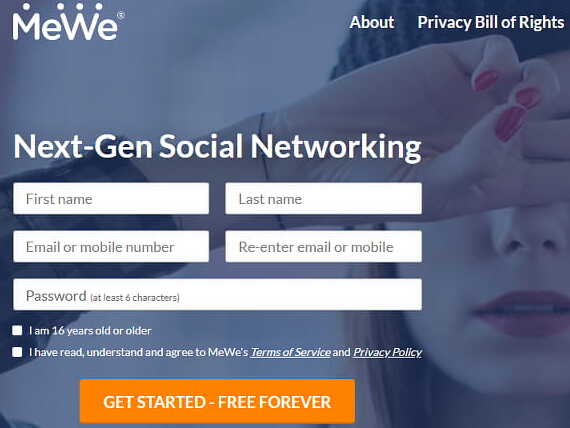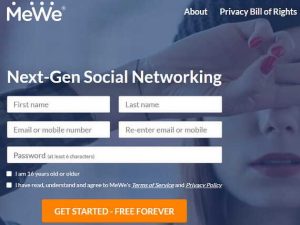 If you are fade up of Facebook where you are always concerned about your privacy, MeWe is the option to go. Here is the guide for you on how you can set up your MeWe account and explore a new world of connectivity with a bunch of exciting features.
Set up your account
MeWe provides you a profile form that you need to fill where you will add information about your likes and dislikes and interests in things just to let the other people know who you are so that you can connect with people of similar interest.
Add pictures
Just like Facebook, Instagram and other social media sites you add a profile picture that shows your personality and a background picture. You need to upload these pictures carefully keeping in mind that people will extend their contact with you by seeing these pictures so made good ones so that you can find amazing people over the platform.
Invite your Facebook friends
Once you are done with setting your profile, you can invite your Facebook friends and let them know about this exciting app. People might not know about the app, you can add them so that you can enjoy their company on this new, safe platform.
Use MeWe
Now you can make new friends and join new groups that interest you. You can create your own group too where you invite and add people who are sharing similar thoughts with you. With mutual friends you can chat in groups and in private too.
Use the features of sharing text, super cool emojis, voice notes and links to the albums etc. Besides this, you can do everything you do on Facebook without having the fear of your data being monitored or taken without your concern.
Set your business page
Unlike other social media services, MeWe provides you exclusive reach to set your business on the platform. With just $1.99 per month you can set a business premium page which is much more organized than what all other social media services provide.
With premium business page businesses, brands, artists, can control the accessibility of their page. People who are interested can follow your business page but not post anything without the user's permission. They can comment and give feedback to their posts.
As MeWe does not use social media algorithms that means 100% of your posts reach 100% of your followers without ads and algorithms getting in your way. You also don't need to pay extra to boost your page.
Start chatting
Here you will find many people you connect to and start chatting. MeWe offers so many features to make chatting with friends more enjoyable. Here are some of the features that you can use to make your conversation even more fun:
Photos
Videos
Files
Emojis
Dual-Camera MeWe's
Doodles
Stickers
Voice messages
GIFs
Private posts
Add stories
Like Facebook and Instagram, MeWe provides the features where you can add about your days and moments with your friends. Stories disappear after 24 hours so people who love to see them get back to you everyday. You can also control who can see your stories too with the given options.
You can add a slideshow of the stories of your entire day with adding more emojis and text just to make it look more engaging.
Paid subscriptions
If you enjoy being at MeWe, you can update your profile by purchasing premium subscriptions that allow you to enjoy added features. Just in $4.99 you can enjoy following exciting features:
Unlimited Voice and video calls
Video journals for your stories
Unlimited custom themes
100 GB of MeWe cloud storage
Unlimited custom emojis and Stickers
Premium profile badge
Why is MeWe gaining so much popularity?
Facebook has enjoyed a lot of popularity in youth and has been the most popular social media site lately. But the recent scandals of the company selling data of its users without their consent to Cambridge Analytica and to other third party users has sparked distrust among its users. Also the censorship from Facebook on pressing issues has also disappointed many users who do not consider the platform which advocates free speech.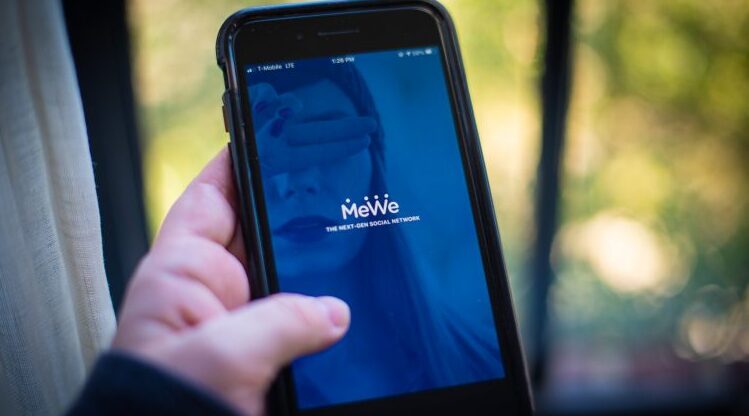 MeWe on the other hand seems to address these grievances of the users by claiming that the platform gives extended space to its users to share their thoughts as it does not censor any content and also it is more secure and private because it does not sell the data of users to advertisers. The owner tweeted that "no Ads, no targeting, no political bias, no news feed manipulation and no BS".
This claim from Mark Weinstein gained the trust of the users who are increasingly joining the platform, finding it more convenient in sharing their thoughts more freely. In one week of last year alone, MeWe gained 2.5 million users and is currently hosting more than 18 million users.
As it ensures the users that it does not fill their newsfeed with third party ads and content which is a bonus for people who are more likely to turn away from ad-riddled social media platforms.
Recently the app gained more popularity in Hong Kong and the United States as Facebook seemed much more active in shutting down the content of its users during the riots. Many users started to migrate to MeWe from Facebook and the app became #1 downloaded social media app.
The new CEO of the company Jeffery Edells says that "people worldwide are migrating from Facebook, Instagram, and other major platforms to MeWe because it is the social network that respects its members as customers to serve and delight, not data to share, target, or manipulate".
How MeWe's business model is different?
From early on MeWe has relied on its commitment to privacy and remain ad-free. Nor will they use cookies and spyware to generate any content. That means it does not take users' data to generate revenue from the advertisers rather it generates revenue from subscription fees. It offers a premium tier to its users which costs $4.99 per month.
Here the users enjoy additional features which those with basic free profiles do not get. With premium offers, the users enjoy unlimited voice and video calls around the world, unlimited themes to customize their app, unlimited pack of emojis and access to "Secret Chat" which is authorized with double ratchet encryption which does not even allow MeWe employees to access the user's conversation.
The owner extends the news that the app has now 20 million users from which 20-30% are the users who have bought monthly subscriptions. This adds to the revenue of the company.
Other than that the company relies on donations and investors. Until last year, the company raised $23 million from funders such as former NFL executive Rick Smith, professional surfer Kelly Slater, designer Rachael Roy, and Earth wind and fire bass guitar player Verdine white. It also looks for investment from media or communication companies to excel in marketing.
Is MeWe free?
Like other social media platforms, a user can sign up for free using the app which is available on both iPhone and iOs or via any browser. Signing up is free and you don't need to pay anything for creating your MeWe account and enjoy the basic features of the service.
The basic services include everything you enjoy on facebook and other social media sites like posting, chatting, creating and joining groups but for enjoying add on services like business page, custom emojis and themes you pay a little amount of $4.99 per month. You can cancel this subscription any time you feel.
Is MeWe overriding Facebook in the future?
What's the future of MeWe? Recently news circulation of Facebook selling users data to some third party saw a huge influx of people looking for other platforms to shift to in order to feel safe with their data. Before that Facebook was also alleged of selling users data to Cambridge Analytica which resultantly was engaged in manipulating the election results in America. That was the moment when people decided to give up on Facebook which does not ensure the security of the data of its users.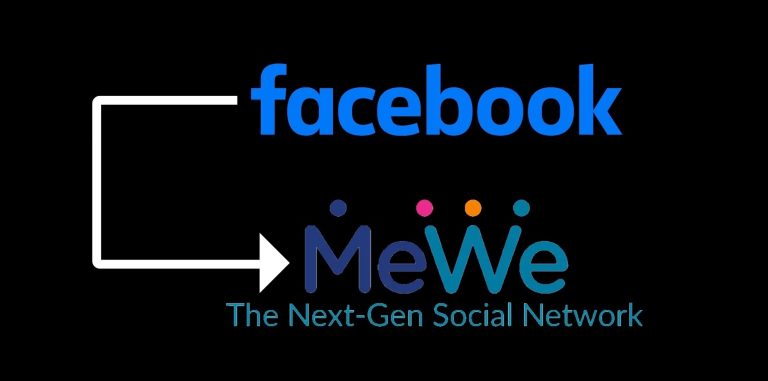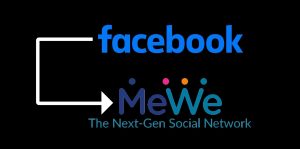 Also, the growing crackdown of Facebook on users' online activity against popular events frustrated the users who found this platform as an assault on the freedom of speech.
Meanwhile social media platforms like MeWe continued to grow their user base in competition with Facebook. Compared to MeWe, Facebook is still way higher in use and popularity but MeWe also keeps higher goals.
Although launched in 2012, which is not much longer, MeWe has been altering and redirecting its branding efforts for the users to address the needs of its users which are growing in millions. In past months only, the platform managed to draw some nine million users earning the number one social media spot in iOS.
Many of the users who are turning towards MeWe are former users of Facebook who left the platform for being targeted and censored for their views. MeWe's less moderating attitude towards content shared by the users make it an attractive point for these users who feel free to share their thoughts.
This is the fact that right after 2020 United State presidential election platforms like MeWe witnessed an influx of signups from Trump supporters who faced crackdowns on mainstream media platforms specially from Facebook. After November 11, MeWe was the second most downloaded app on the Apple store in America. Similar shifts were seen after January 6 when the White House was stormed by extremists.
MeWe reported in June 2018, the platform had 90,000 active groups which have jumped to millions recently.
Although MeWe is working hard to give a fair competition to Facebook, in recent statistics, Facebook is enjoying an upper hand which would take more effort from MeWe to reach the level of Facebook in popularity and acceptability. But the fact that it has gained this much popularity in a short span of time would be a point of concern for social media companies to set their terms with the users. MeWe's policy of "privacy first" is gathering more users on its platform which entrust it. If MeWe continues to address the needs of its users, it can come into fair competition with the giant company of Facebook.
Conclusion
In the era of larger connectivity where everyone extends their communications more online than in the real time, the reliability of the platforms that are being used means to communicate has grown more than ever before. Social media platforms are playing an important role in bringing people closer to each other.
People not only find friends over these platforms but their businesses also rely on these connections. Given this context, privacy has become a major concern of the users around the world specially when the major platforms like Facebook made news of selling off the data of its users. Platforms like MeWe are coming on to surface to address these concerns with more reliability and sustainability to its users.