More than 80% of all the big brands invest in Instagram.
Since its acquisition by Facebook nearly five years ago, the social network has grown even bigger and gathered more than 400 million users. These users can post over 800 million images in a day and rack up to 1.2 billion likes.
From posting memes to planning giveaways, there are different methods you can use to engage with your audience and see your Instagram metric increase exponentially.
This article provides ten tested and trusted tips for improving your activity and engagement on Instagram.
Once you finish reading and start practising these tips, you'll know how to get the maximum benefits for your posts on Instagram. And the best part is, you won't need to spend a dime!
10 Tips To Improving Your Instagram Activity
1. Make Your Instagram Profile Attractive
Creating an Instagram account is not enough; the account must be naturally accessible and complete in its setup. You can do various things to make your Instagram profile more attractive.
First, you can start by choosing a good profile picture that relates to your brand, like your logo or a business image. This represents your brand and helps other users and potential customers identify you and what you do.
Secondly, you would need to write up an engaging bio explaining the function of your brand and the services and products you provide. You should also add a web address that can send viewers to your main website to help further increase traffic to your business accounts.
Do not use private accounts on Instagram, as this would never make you have any form of meaningful engagement. Make sure your profile is public so that your audience can see your post's comments and tags. This will help them connect with you and then gradually start following you.
2. Use Instagram Stories Stickers to Connect With Your Audience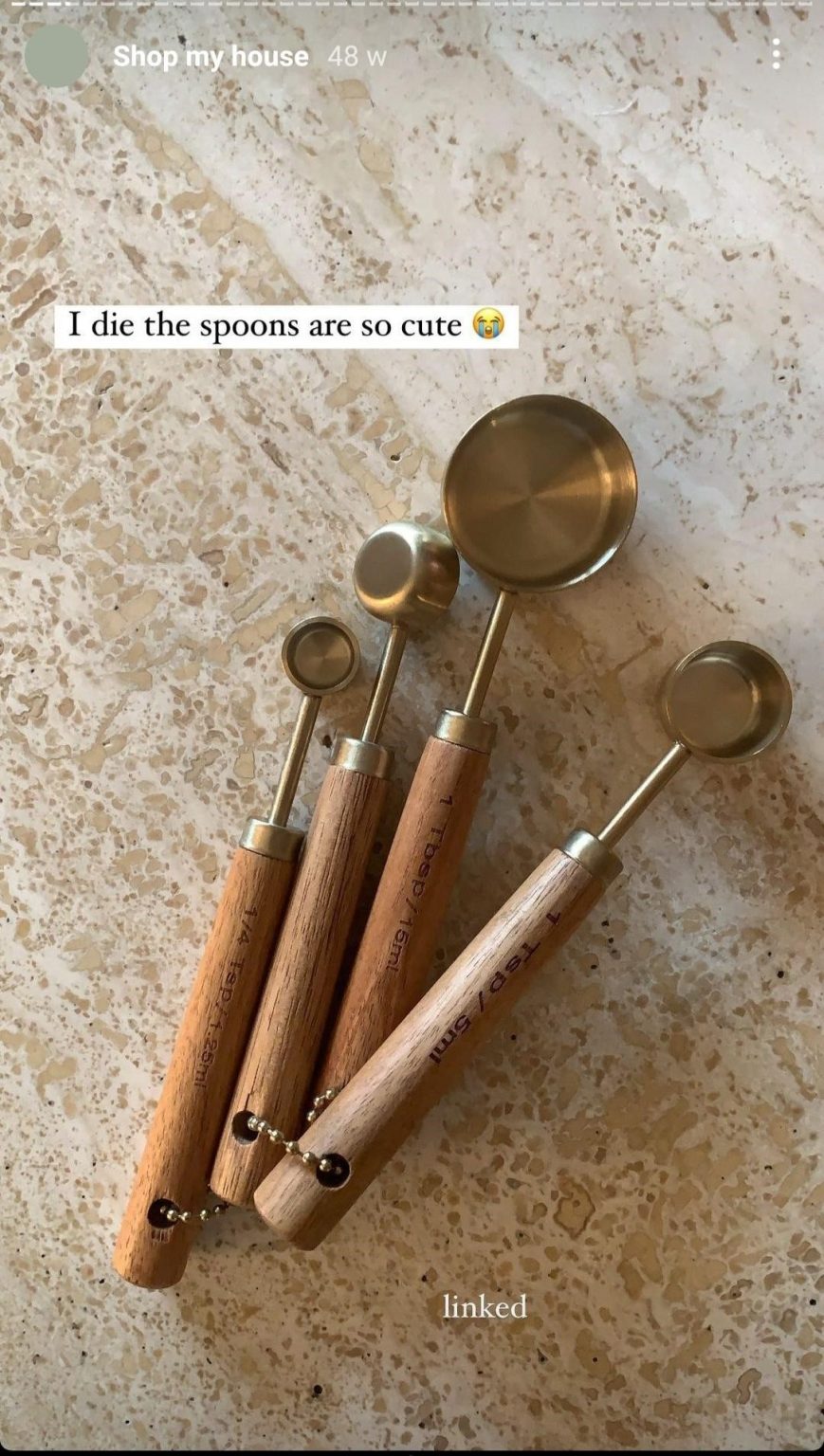 Images from Instagram
Instagram Stories stickers are an excellent method of naturally making your followers engage with you on your content. This, in turn, helps create an audience or a following that feels connected to your brand and what it offers.
These stickers are easy to use and it won't take you up to a minute to fix one into your story. These stickers come in different forms—countdowns, questions, polls, emoji sliders,  quizzes, and many more.
One of the most engaging story stickers is the question sticker. It allows you to have direct conversations with your followers. You can also make your followers ask you questions on a topic.
3. Post at the Right Time Each Day
One simple and fast tip for increasing your Instagram engagement is regularly posting content. Posting once or twice a week wouldn't cut it. Your audience needs to have a steady stream of content to start engaging with your posts and the information they provide.
However, just posting random content isn't enough. You must post contents that your audience can naturally connect with. Instagram is a very visual social network, but It is also timeless, and that's where the advantage comes in.
Learn to post content as frequently as possible and have an active presence on Instagram. Most significantly, monitor peak times of engagement and activity while aiming your posts towards those periods.
Most Instagram users often connect after working hours and during the weekends. It would be best to make your important posts during those times.
4. Create and Share Engaging Memes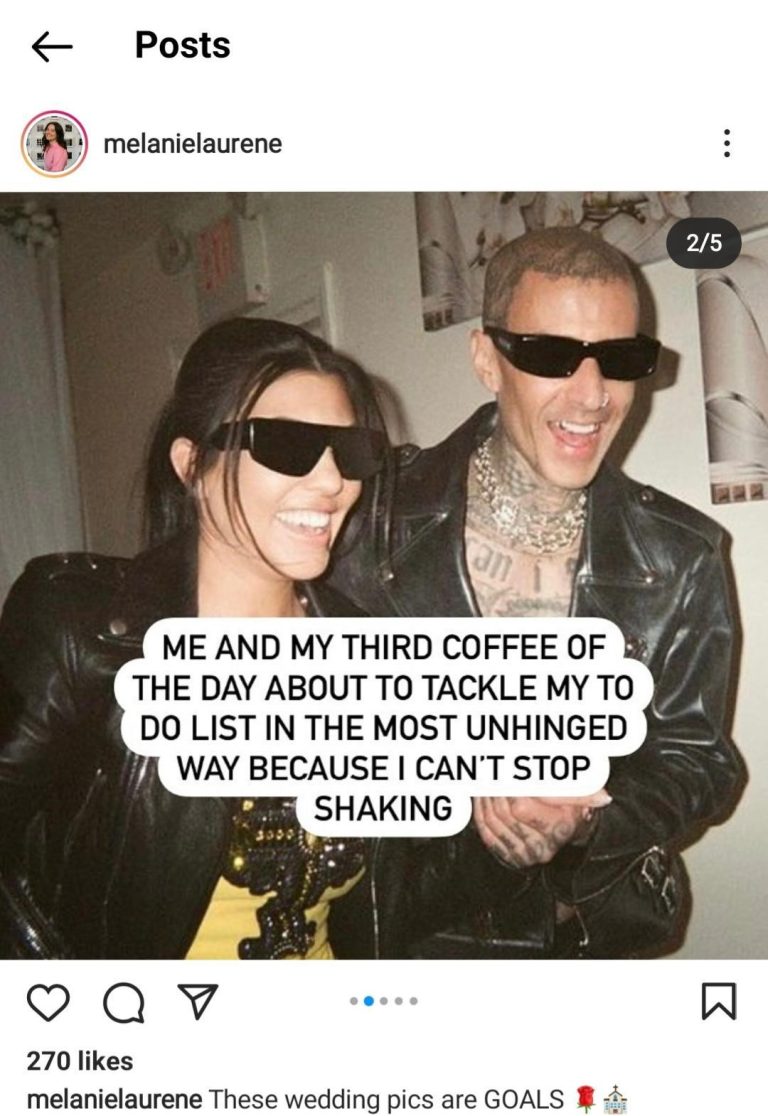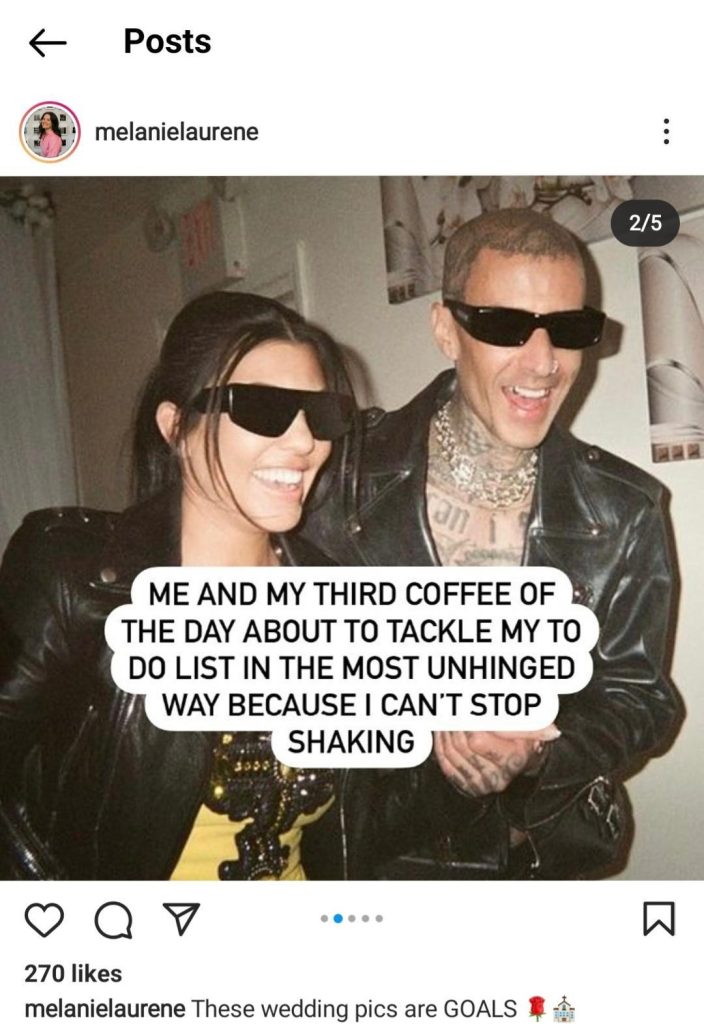 Image from Instagram
Memes are the way to every social media user's heart. They're fun, usually relatable, creative, and exciting. However, the most important element you need is relatability.
Every Instagram user wants to feel seen and heard, and you can achieve this with your audience by using the right meme.
This can make your viewers like and comment, and even share your post with their friends. Regardless of your brand or industry, the opportunity to create a meme that works for you always exists.
5. Interact With Your Followers on Instagram
When engagement is the goal, one of the most important things to do is to constantly interact with your followers. This is a guaranteed method of increasing your follower count and improving the magnitude of engagements you get on your account.
Always know your audience's concerns, concentrate on them, and provide help. This will naturally make them participate in your conversations.
Make it a point of duty to call for interaction. Your audience will respond if you approach it the right way.
For instance, if you run a travel website, you can directly ask your customers to share their adventures using a hashtag. You can also ask them to narrate their personal travel experiences. This is not only an effective marketing strategy, it can also help you understand your followers' needs.
Also, learn to mention people in your posts as this increases their confidence and their loyalty toward you.
6. Make Meaningful Graphics
Graphics, repurposed tweets and quotes are nearly everywhere on Instagram. They are the perfect tools for boosting engagement. Instagram users enjoy sharing quotes on their stories, especially if they have meaning or look attractive.
Another trend that can help you improve your activity on Instagram is re-proposing tweets into Instagram posts. Making these graphics and repurposing tweets don't require a lot of resources. Even if you are not on Twitter, you can use different templates to give a post that tweet appearance.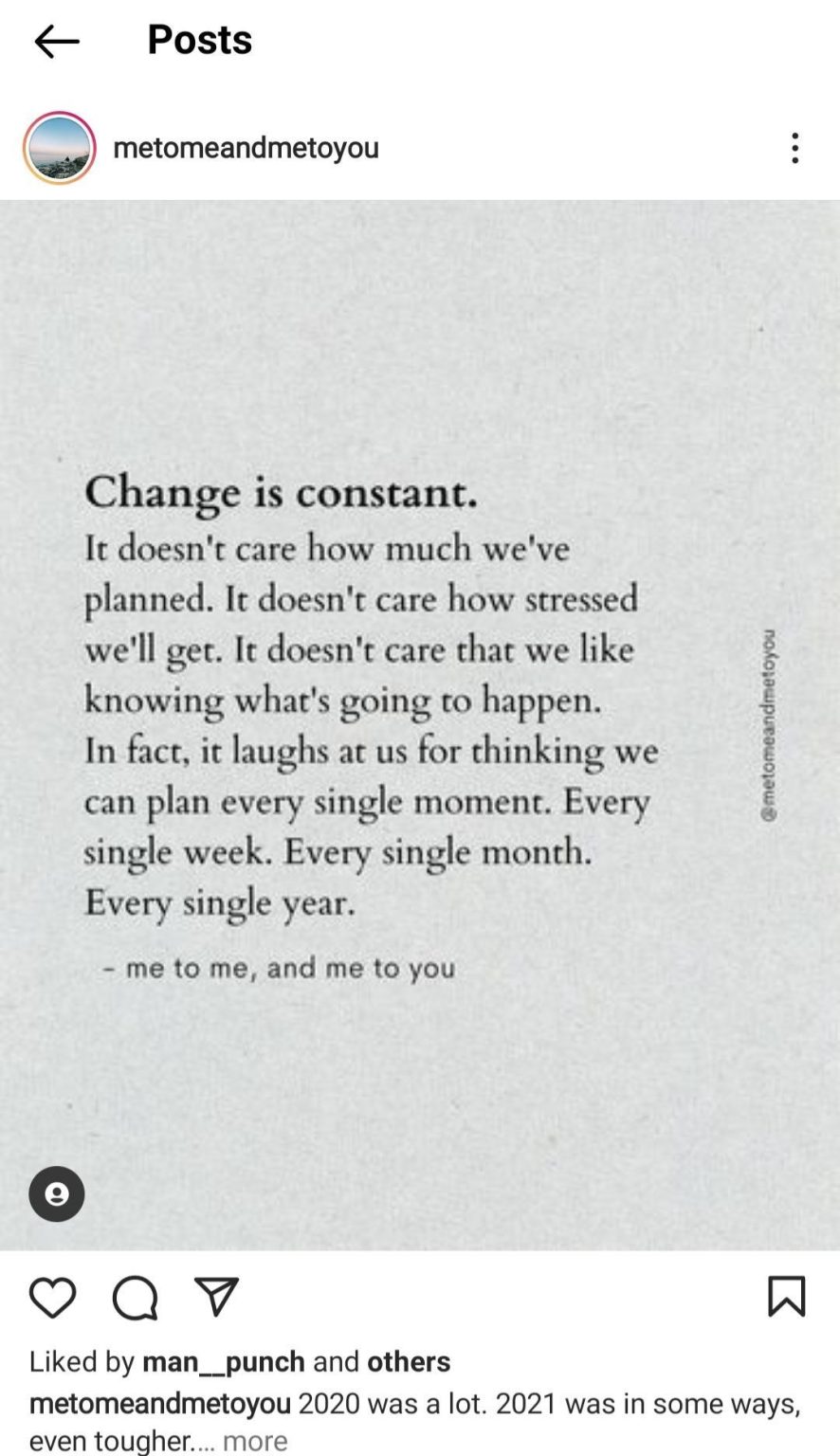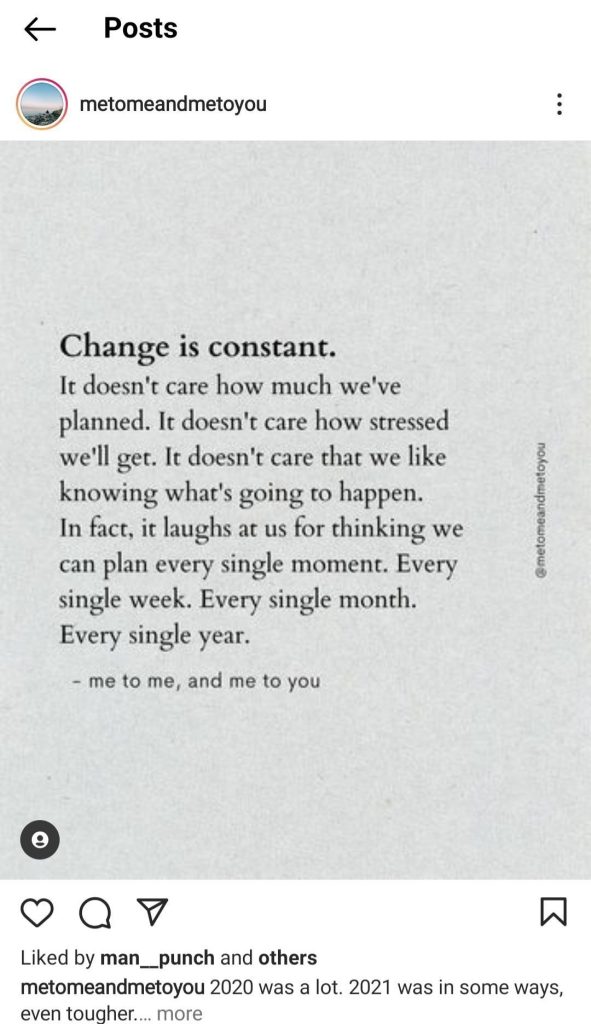 Image from Instagram
7. Add Call to Actions To Your Captions
Calls to action or CTAs have stood the test of social media and continue to be an effective method of increasing engagement. Adding a call to action in the form of a direct question in your caption n aturally attracts users to your information.
The most important thing is to ask a great question to create something natural and engaging. Think of relevant questions while avoiding vague, generic ones.
To make your questions more genuine. You can ask for recommendations or even information on particular subjects or content.
8. Host an Enjoyable Giveaway
Remember that Instagram users are like regular, everyday people. They love free stuff. With this evidence, it only makes sense to add giveaways to your Instagram marketing strategy.
But not just any giveaway.
In 2022, giveaways are more dynamic and intentional. Anything that falls short will just be taken as a marketing scheme. You must be authentic to your brand and genuinely provide the opportunity for your audience to get free products or services.
With the right prize up for grabs and the right atmosphere of a giveaway, you will be racking up engagements before you know it.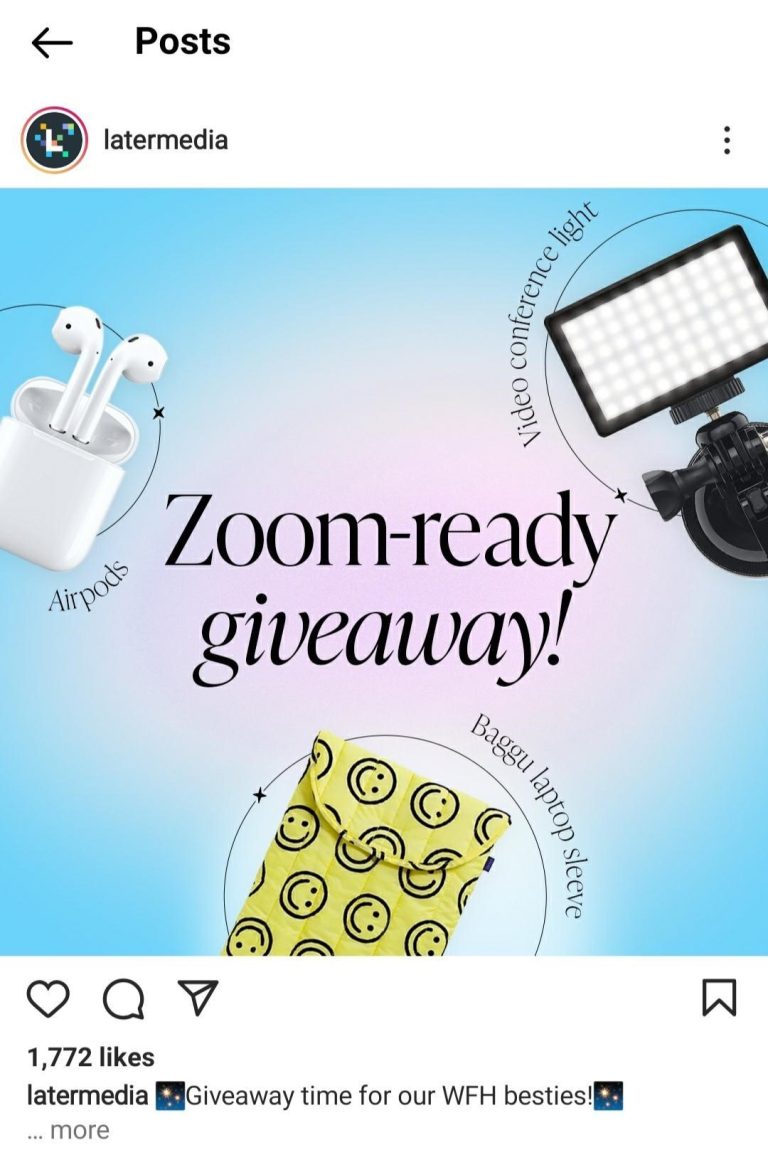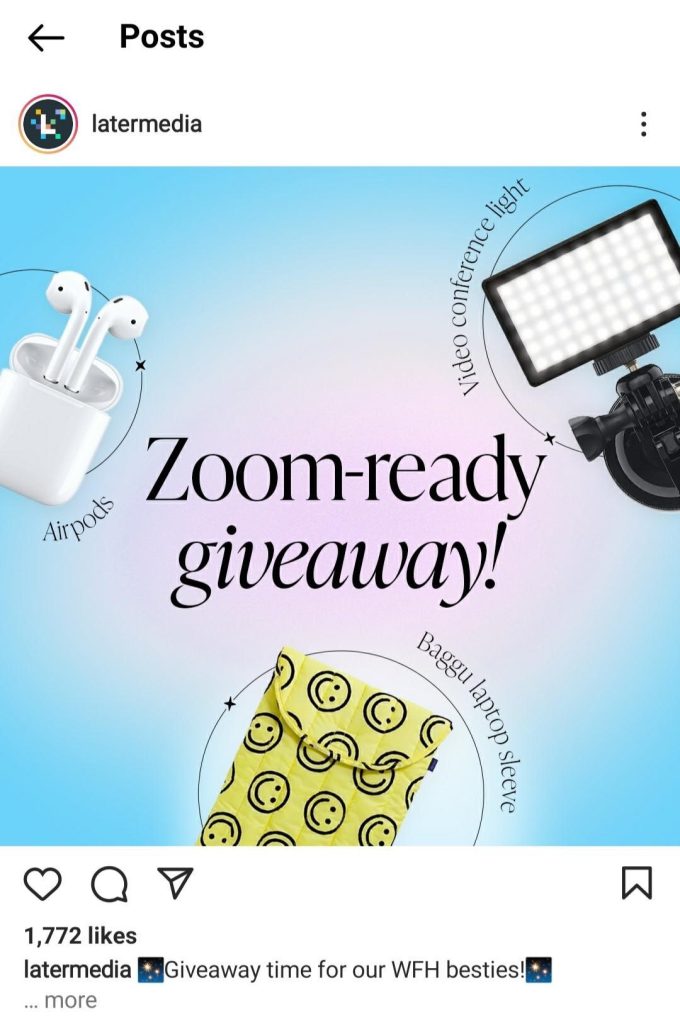 Image from Instagram
9. Use Collaborations on Your Instagram Reels
Instagram Collaborations is the new invention to drive engagement on Instagram — especially on Reels.
The feature enables you to invite a user to collaborate on a post or a Reel so that they can share content with their followers. If you co-author content like a Reel with another Instagram account, the post will show up on both profiles.
This is particularly helpful, as you'll be able to share views, likes, and comments allowing you to engage with each other's communities.
Image from Instagram
10. Use Popular Hashtags
What would Instagram be without hashtags?
Hashtags were primarily created to make finding content easy, and they still work quite well.
You should take your time to investigate popular hashtags and understand the ones that work best for you. Such hashtags should generate more traffic in your social community, and you should be able to use them to reach a larger number of people.
You can take it further by creating exclusive hashtags for your products or brand. You'll be able to boost social engagement on Instagram and increase commitment with your followers by encouraging them to use your hashtags in their posts.
Bottom Line
Next time you're creating a Reel or strategizing your content, remember to incorporate these tips and watch your engagement gradually go up to different levels!
Of course, nothing happens overnight, but if you stay through these hacks by dedicating a little time and effort, your Instagram account will naturally get better results. Remember, you can achieve all this without having to spend a dime!