Rasmus and Christian Mikkelsen aren't your average teachers. They did not follow the traditional career path, but these twins are among some of the most successful teachers today. They carved out a name for themselves in the online education sphere, where they've now taught thousands of successful students.
They founded PublishingLife.com, an online education company dedicated to helping ordinary people escape their dull 9-5 jobs and achieve freedom through their online book publishing business model. 
Their flagship coaching program called Audiobook Income Academy (AIA) educates students to successfully create an online business around self-publishing ebooks, print books, and audiobooks. The best part of all is that the students don't have to write any books themselves. 
The duo might not have business degrees, but they do have a successful business model under their belt.
Before they set foot in the online education world, the Mikkelsen Twins had made six-figure earnings through their self-publishing business selling books on Amazon. 
To them, real-world experience is infinitely more valuable than credentials. After all, how can you teach something if you've never truly learned how to do it in real life?
"A lot of what you learn in school and college is useless in the modern world," said Rasmus. "A lot of the knowledge you need to create the life you want is not taught in schools. It should be taught by people that have the results, not just a degree. Get an education that is actually in line with your goals in life."
Now, the Mikkelsen Twins share the knowledge that helped them achieve their goals of building an online business that gives them freedom.
Generating over a million dollars in just two months from their company, the Mikkelsen Twins succeeded by focusing on the highest quality product and student results. 
They teach a system of doing market research on Amazon to find topics with high demand and low competition, then hiring writers to create high-quality books that deliver on what readers want. 
"Do not hire five writers at once and do little to no editing and proofreading because you have a 'more books equals more money' mentality," said Christian. "The keyword missing there is more high-quality books. Slow down, develop genuine care for your product and your customer, and publish books and audiobooks you are proud of, and readers love."
The same principle applies to their education company.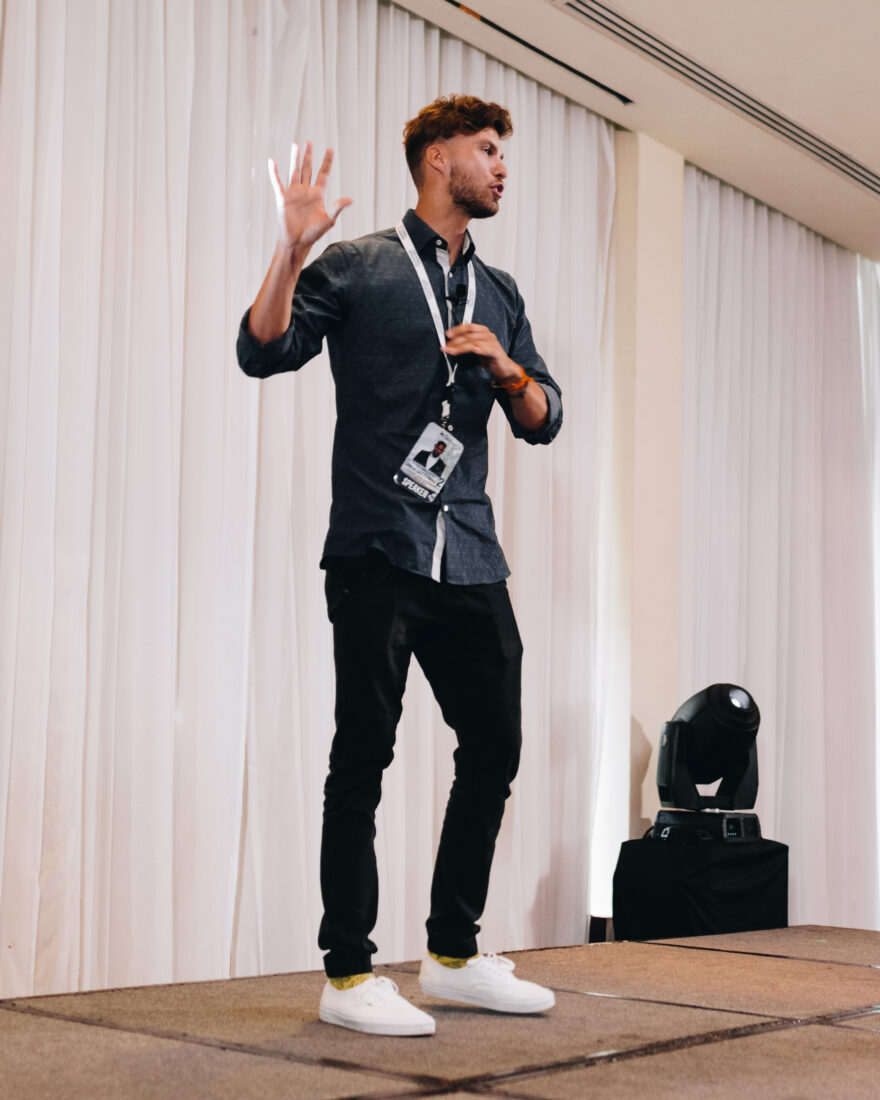 "If you really want to make it in this industry, you have to have the best damn product, plain and simple," said Rasmus. "With the amount of fierce competition, there is simply no other way you can compete than by focusing all of your time, effort, and money on one program."
Audiobook Income Academy's legal disclaimer reads, "this is not a push button get rich quick scheme" and that it's for "people who want to work with us and invest time in creating a REAL business."
Unfortunately, the Mikkelsen Twins feel like too many online course creators are more focused on making a quick buck than delivering genuine, high-quality education. They emphasize that their program is for people with a legitimate interest in entrepreneurship and are willing to put in the work. To them, there are no shortcuts in this industry. 
This is why the Mikkelsen Twins are starting to be noticed alongside other highly respected course creators in the industry like Sam Ovens and Dan Henry.
"The problem most make is they will create a course once and then move on to the next one thinking that's the best way to grow their business," said Rasmus. "Their business is now built on many decent or good products rather than one great, truly life-changing product."
"We do it differently. Instead of creating four different courses as some people have suggested, we have remade the same course four times in two years. Every time we remake it, it is truly ten times better than the previous version. The only way a competitor could create a program as good as ours is by remaking it four times."
The Mikkelsen Twins judge their success not on how much money they make, but by their customer results and satisfaction.
"Nothing matters more to us than student results and customer satisfaction," said Rasmus. "That is our holy grail and how we judge the success of our business."
They're committed to their cause too. In May 2020, the twins hired a full-time coach to do 1-on-1 coaching sessions with their students for free. These are 30-minute calls anyone can book when they need help in their publishing business. It is tough to find any other online program with that same level of coaching and attention to every individual.
Their results speak for themselves. Right now, Audiobook Income Academy 2.0 has over 1,800 happy customers, and this post in their private community Facebook shows just how happy they are.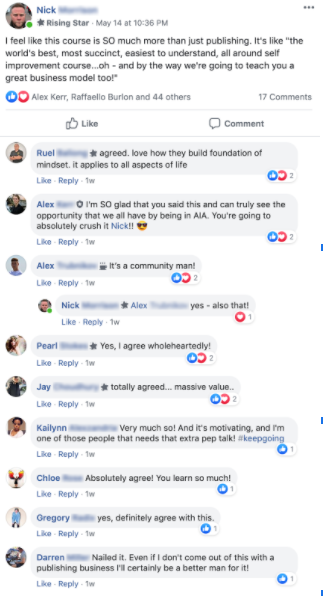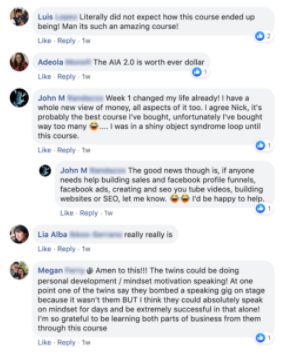 Customer satisfaction comes with another benefit: free marketing.
"When a product is so great, it literally sells itself," said Christian. "For one, there is no better marketing material than simply showing how much your customers love your product. There is no slick combination of words and sales skills that can beat that."
The Mikkelsen Twins admit they've never been good at pushing marketing and trying hard to get people to buy things, but they don't need to be—the product markets themselves. 
"Our marketing material is simply the results of our successful students and community of hungry entrepreneurs who support each other," said Rasmus.
To become a top online course creator, here is the formula:
Get real-world results yourself, then create the best product showing exactly how to do it step by step, and then focus on student results while upgrading your course every step of the way.
If you want to learn more about the twins and how they've helped hundreds of ambitious entrepreneurs, head over to publishinglife.com.