Nowadays, many Windows users find Hard disk corruption issues on their systems. Such corruption issues are not only messy or unpleasant but also hamper your task. If your hard drive is corrupt, it might become inaccessible or cause problems like severe data loss.
Most of you use hard disks to create backups of files and folders that hold importance. But ever wondered how terrible it will be when your external hard drive gets corrupted even without formatting?
When you experience any such situation, don't worry! Here, in this article, we have mentioned several methods to answer how to repair a corrupted external hard drive without formatting.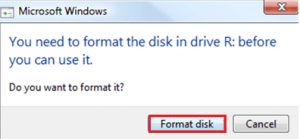 What Causes Hard Drive Corruption?
Before you repair an external hard drive or try to recover files from it, it is important to know the common causes of the issue. There are several reasons why your hard drive may become corrupt. Given below are some common reasons that lead to data corruption on an external hard drive:

An excessive number of hard disk bad sectors

Outdated/corrupted driver

Damage or malware infection

Firmware or manufacture faults

Poor conditions of the Operating System

Improper power supply or connection

Read/write Problems on Hard Drive
Now, that you are familiar with the causes of hard drive corruption, let's learn the quick workarounds to fix the issue. 
Quick Methods to Fix Corrupted External Hard Drive without Formatting
You can scan your external hard drive for viruses, update the drivers, and use Windows in-built tools like Check Disk and SFC scan to fix the hard drive. Let's check all the methods in detail:
Method 01: Use CMD to Check for Bad Sectors and File System Errors
You can perform a CHKDSK scan on your system to check if your system gets affected by file system errors or bad sectors. This command indicates if there is anything wrong with your system hard drive and even applies proper methods to resolve it. All you have to do is:

Type CMD in the search box. 

Right-click on Command Prompt and choose the "Run as administrator" option to run it with administrative privileges.

In the CMD window, type CHKDSK /f/r/D: and press Enter key. (D is your hard drive letter).

Wait until the scanning being process. 

After that, close the window and reboot your device.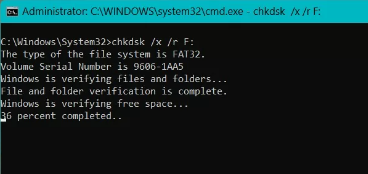 Once you have done all the above steps, check if you are able to access the hard disk. If not, you can try other methods that are given below.
Method 02: Perform SFC Scan 
Windows built-in SFC (System File Checker) utility allows you to scan and fixes missing or damaged Windows system files. This command replaces the corrupt versions of the protected system files with the correct ones. Go through the following steps to run the SFC scan:
Press the Window key and type cmd in the search box, right-click and run it as administrator.

Now, type D: \> SFC/scannow and press Enter button. (D is your hard drive letter)

Wait till the scanning process is complete and then reboot your system. 

At last, check if your hard drive is accessible and free from errors.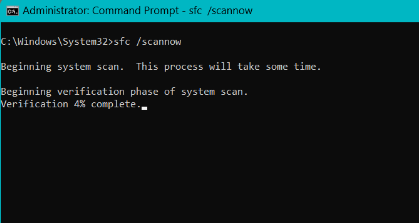 Method 03: Change the Drive Letter
You may fail to access your external hard drive if it is denoted by the same letter as that of the system disk drives. In such cases, Windows will be able to identify only one of them. To avoid such a situation and to make the external hard drive accessible again, you can change the drive letter.

Firstly, press the Windows and X keys simultaneously to launch the Power Menu. Locate and click on the Disk Management option.

Now, right-click on the external hard drive with which you are facing issues and choose the "Change Drive Letter and Paths" option.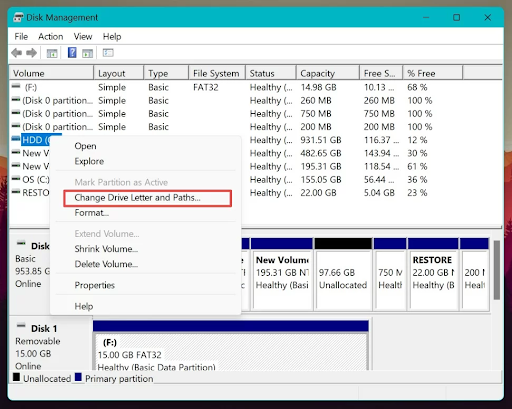 Click the "Change" button and provide a different drive letter from the list appearing on the screen. Click the "OK" button to continue.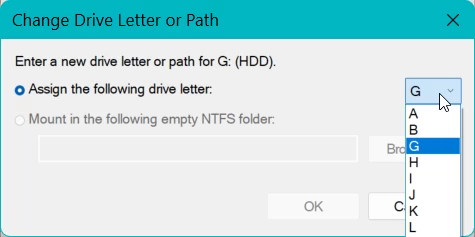 After that, you will get a Warning message on your screen, click the Yes button to continue.
Method 04: Update the Drivers
It is important to keep the system drivers updated. If the drivers are corrupted or outdated, it will not be possible for the OS to access the devices. You can go through the following steps to update the drivers using Device Manager:
Press the Win + X key to open the Power Menu and then choose the Device Manager option.

Now, expand the Disk Drive drop-down and right-click on the external hard drive device. Select Properties. 

Navigate to the Drivers tab and select the "Update Driver" option.
Choose the "Search automatically for drivers" option. Then, Windows will start detecting if any update is available for the drivers of your hard drive. If any new drivers are not found, click Close.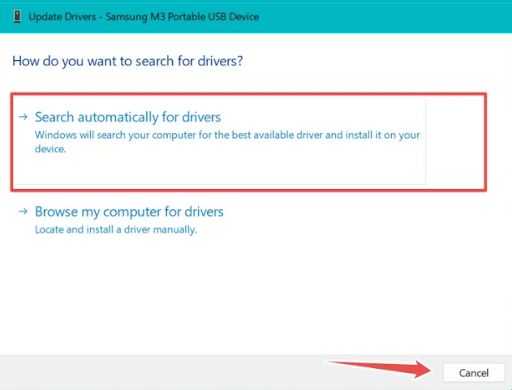 How do I Recover Data from Corrupted Hard Drive?
The methods to repair corrupted external hard drives with formatting are quite simple and easy to implement but sometimes, you may face a situation when the data stored in that external hard drive gets delete. In such cases, you need to use professional data recovery software to get your deleted data back.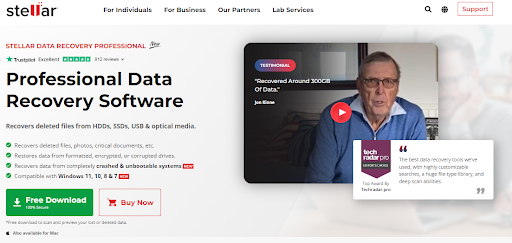 There are several data recovery software available online that you can try to recover data from the corrupted hard drive. Tools like Stellar Data Recovery supports recovery from formatted, corrupted, or RAW hard drives.
The software can help you to recover deleted files, photos, critical documents, etc. Some amazing features that make this tool perfect for your Windows data recovery solution are:
Easily recover deleted files from HDDs, SSDs, USBs & optical media.

Recovers data from completely crashed & unbootable systems.

Recovers data from hard drives that have developed bad sectors.

It provides advanced capability to recover lost or deleted data from 4K hard drives.
Recover Deleted Files Using Stellar Data Recovery Professional Tool (Step-By-Step)
You can apply the following steps in order to recover your deleted files from an external hard drive using the software:
Visit the official website for

Stellar Data Recovery

and download the tool on your system. Install it and after completing the installation, run it on your device.

From the "Select What to Recover" window, choose the data that you want to recover and click the 'Next' button.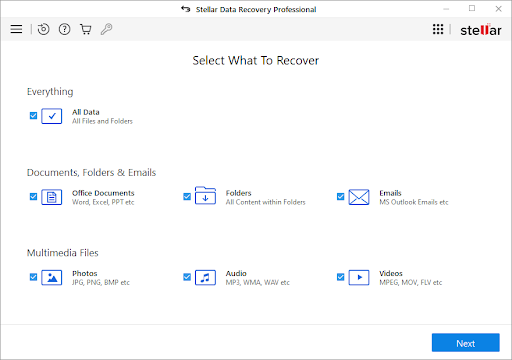 Now, from the 'Recover from' screen, select the hard drive from which you want to restore data. If you can't find your hard drive, click "Can't Find Drives" located under the "Connected Drives" section and then click the Scan button.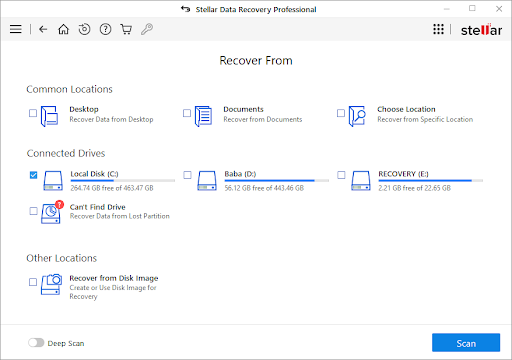 Once the scanning process gets complete, select the files that you want to recover and click 'Recover' to save the recovered data.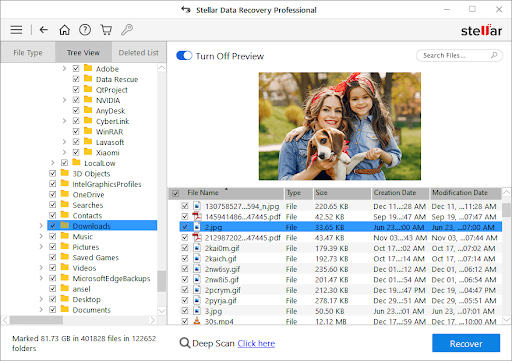 Conclusion
External hard drives are the best storage solutions, but issues like driver corruption can pop up abruptly. It is good practice to have backups of critical data so you can use them in case of unexpected data loss and corruption. 
Always be double sure while connecting your external hard drive with any device. This article provides detailed information on how to repair corrupted external hard drives without formatting.
Along with this, we have also mentioned how to recover data from the corrupted hard drive and how data recovery software like Stellar Data Recovery recovers the data.