Organizing your living space can often seem like a daunting task to begin with. However, according to this informative piece, the process of home organization can be made infinitely easier with the right hacks and tips. Learn more here.
Regardless of whether one has always been a tidy person by nature, or they strived to become one especially after finding out about the Konmari Method, keeping your home organized has proven to be more than just that. It is a process that is known to have significant effects on a person's physical and mental health.
While it may not seem like much – after all, how hard can cleaning up your personal space be – organizing and decluttering is harder than it looks for a lot of people. The inability to tidy up their homes can overwhelm them, and greatly hamper their daily routine in the long run.
Just as Marie Kondo created a whole method that could effectively help people with organizing their homes over time, there are several life hacks and tricks to making this task a lot easier and more manageable. This article will cover several home organization hacks to make it easy for the person set to change their life, starting from their homespace.
Home organization and health
A cluttered household not only produces an excess of dust and mold, but it can even have an effect on weight – a disorganized personal space can make one susceptible to choosing unhealthy food over healthy edibles.
An increased amount of clutter can prevent one from thinking productively and positively. Disorganization can positively contribute to increased stress, anxiety and depression. But making use of decluttering tips can help clear one's mind and put it at ease. It can improve sleep cycle, relationships, productivity and reduce anxiety, depression and the above mentioned cycle of unhealthy eating too.
Effective home organization hacks
When people have difficulty in home organization, it is usually because of the following reasons: they have never tried it or it can be very time consuming with daily commitments.
With the following hacks, it can be infinitely easier to implement a lifestyle of cleanliness and tidiness and begin your journey towards having an organized home, life and mindset.
Invest in organizer sets
Whether it be for your makeup, bathroom essentials, stationery or even electronics, one can use the sets – transparent for you to see everything – to organize them all in whatever category they would like. Even if it can be as basic as separating the shampoos from the conditioners or as specific as arranging all the notebooks in chronological order, organizer sets are a great way to declutter spaces such as drawers, cabinets and desks. These are where small items that need to be arranged and stored away can clutter up the space.
Use hooks and soda tabs
Stick-on adhesive hooks are now easily available at your local utility stores. You can use these hooks on walls, behind your doors and on the inside of your cupboard to utilize the space and hang items such as belts, jewelry, scarves and the like. You can also use these in your supply closet to hang mops, brooms, cleaning cloths and bags – the adhesive is strong enough to hold them. Tiktok is known to provide a number of life hacks to the masses, and one of them was to use soda tabs to help double closet space. Slipping one end through the hook and using the other hole to act as a hanging slot can allow you to hang at least 2-3 clothing items with each other, freeing more closet space for items.
Store clothes and sheets in large capacity storage bags
There is not much to storing clothes smartly – it can be as simple as utilizing the space underneath your bed or even folding them as well as hanging them. One item that can help out is an organizer storage bag, such as this one from Lifewit. This large capacity bag has enough space to fit in a number of clothing items as well as bed sheets, comforters and blankets. You can organize your clothes based on color or seasons, and the sheets with each other and dedicate a space for them.
Use magnets
Magnets are an ideal life hack for home organization. They can be used to store away all the metallic objects around your house, such as tweezers, nail clippers, knives in the kitchen and tools in your garage. Simply use hot glue and stick the magnets to any vertical surface, bring the objects near and voila! If your cabinet is metallic or you have a metallic surface hanging around your house, it can be a huge bonus.
Categorize small items
Hate having to search for a particular tie or bra for a special occasion (or just to feel good)? Or you might just be tired of losing one sock from each pair you buy. You can use an organizer set or divider, like this one from Lifewit, to help divide and store away small clothing items such as underwear, socks and ties neatly in your cabinet drawers.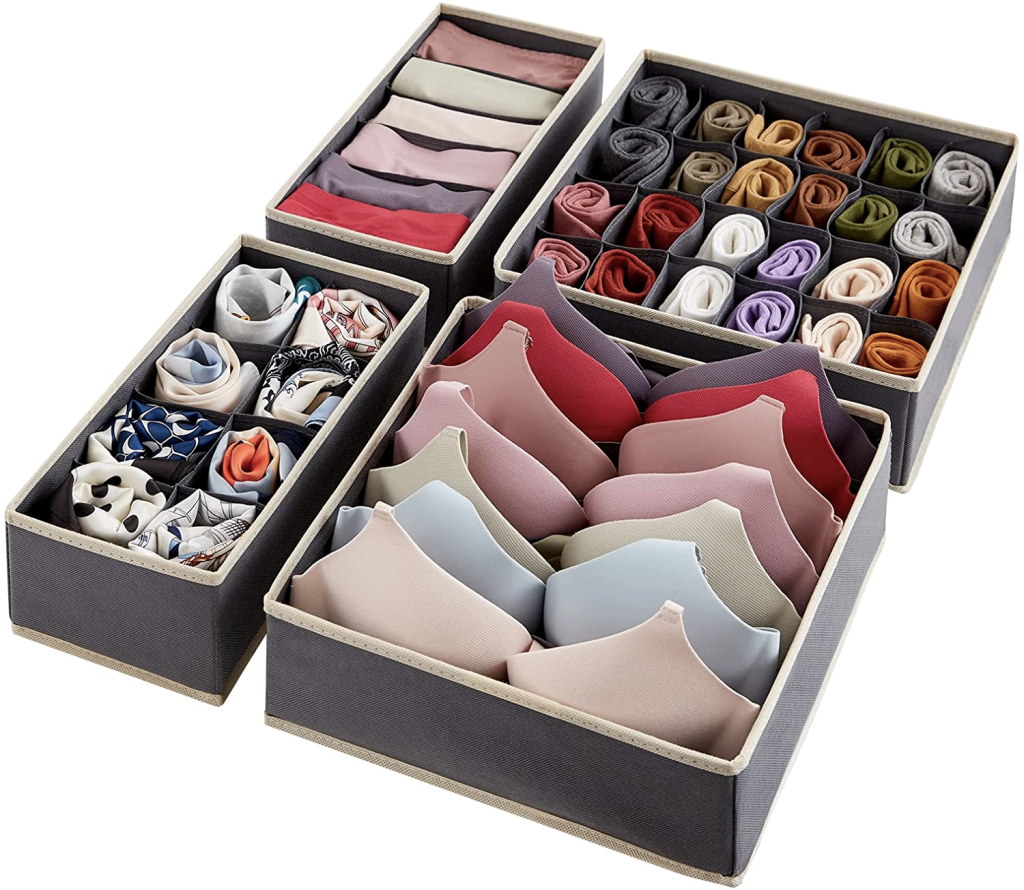 Label everything
Label everything, starting with the spice jars in your kitchen. This will help identify the content in containers, and make it easier to organize items in the future. In the spices' case, it is especially helpful in keeping track of their amount and also to find the appropriate jar when you need it the most – saving you from rushing into a state of panic.
In Conclusion
These small life hacks for home organization are a great way to get the ball rolling and decluttering both your homespace and your mind. You can use any of these as a launchpad to start adopting a more organized lifestyle. It may seem incredibly daunting at first, but once you are able to start, you will be unable to stop and the journey will be worth all the effort.