Are you a trader looking to upgrade your pc? Have you heard about how powerful systems can make all the difference in trading success for experienced traders? And because most people trade online these days using a PC, you need to ensure the computer you use for trading is up to date with the latest technological standards to have the most successful trading experience possible. You can significantly improve your ability to trade by purchasing a dependable and powerful computer in today's market, where technology plays an increasingly important role.
There are essential components and features that the computer you choose must have to perform well. This is especially true in modern times when you compete with other traders and work with trading tools such as TradingView. Let's explore why a powerful system may be advantageous and what other considerations might influence an individual's decision-making when creating their custom setup. So if this topic interests you, let's get started on our dive into the world of computers and trading – it could give your financial career a major upgrade!
How to pick the right PC for trading
So, let's look at the primary components contributing to creating a reliable and powerful trading computer.
Capabilities for Rapid Processing Time (CPU)
Your computer's central processing unit is the most critical component of a trading computer. A quick processor will simplify your life by enabling you to open many programs simultaneously and easily switch between charts, applications, and other things. A PC should have at least 2.8 gigahertz processing power for trading stocks, futures, and currency.
When selecting a computer, some individuals may prioritize this factor, but in all honesty, it does not play a significant role in the decision. A computer with a CPU manufactured during the past five years can provide sufficient processing speed for practically all trading applications.
You do not have to purchase a CPU at the top of the line for the device you are looking at; nevertheless, you should buy one very close to the top. Because of this, you should become familiar with the available options on your laptop computer and mobile device.
The CPU speed is typically expressed in gigahertz, abbreviated as GHz if you can swing it, spring for the processor with the higher clock speed (in GHz). You can say the same about the number of cores on a chip. The better, the more cores you have. However, if money is tight, you should emphasize the amount of memory, the hard drive, and the screen size.
RAM with a high speed
Random access memory allows your machine to execute various activities and open multiple programs simultaneously. The more random access memory (RAM) your computer has, the faster its processing speed. If you are a trader, you want to ensure your computer has the most powerful CPU available and that you can run multiple applications at once. 
When searching for a new personal computer, you should opt for one with at least 8 GB of RAM; however, anything over 16 GB is considered excessive. It is wonderful that so many different manufacturers offer you various options from which to select. But if you are limited financially, you should emphasize memory more than anything else.
Hard Disk Drive (Solid State) (SSD)
The solid-state drive (SSD) in your trading computer is vital to your trading success. If you install your computer's operating system and other software on its hard drive, you may experience many issues while attempting to run your trading program. Simply put, solid-state drives (SSDs) are speedier devices for storing data, which is essential for online trading. 
Check that the capacity of your hard drive is sufficient to meet all your requirements. If you plan to use your next computer for nothing but trading and are on a tight budget, then the absolute lowest amount of hard drive space you will need is probably only 250 gigabytes.
Graphics Card
While computers with built-in graphics chips are the norm nowadays, they aren't suitable for trading. They can handle video and image processing, which is great, but trading software, particularly charting functions, are quite demanding. Moreover, most integrated graphics circuits cannot run several screens simultaneously. A professional trader who uses many screens may watch numerous deals and charts simultaneously.
The finest graphics chips come from two different firms, NVIDIA and AMD. They both support third-party cooling systems and provide high-quality graphics cards. The EVGA GeForce GT 720 2GB DDR3, EVGA GeForce GTX 1070 SC GAMING ACX 3.0, 8GB GDDR5, and the Nvidia Quadro K1200 Low Power, Low Profile are some affordable graphics cards for your trading computer. It's important to note that a high-end graphics card is not required.
Display (Monitor Size)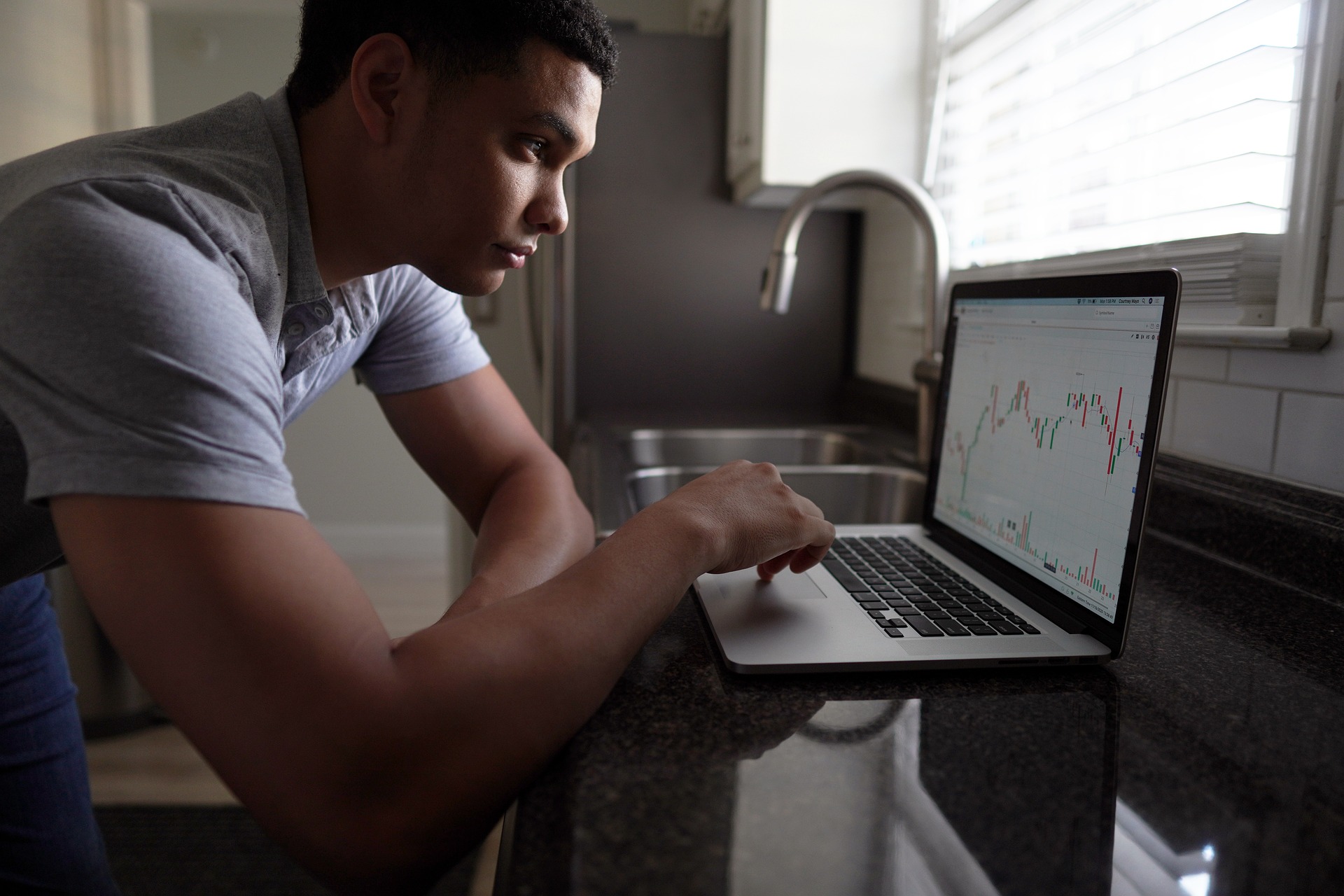 The display is another important consideration, regardless of whether you will trade using a desktop computer or a laptop. When buying a monitor for trading, you should pick one with a screen resolution of at least 1920p, and the monitor size should correspond to your trading requirements. If you intend to buy a laptop, check that it has sufficient USB ports to connect it to other monitors.
In addition to this, check that the screen has sufficient brightness and is clear. A pixelated display is the most annoying thing to happen to a user.
Battery lifespan and operating system
If you use a laptop, the amount of time a battery can stay charged should be a significant consideration in your decision. Make sure the one you choose has a powerful battery because the most capable laptops have a minimum battery life of eight hours.
Also, Windows is, without a doubt, the preferred operating system for trading activities. This is because most trading platforms and applications are only available on Windows. People can now trade from the comfort of their homes using laptops that can be purchased off the shelf, thanks to recent advancements in trading technology. To become a successful and professional trader, you don't need an expensive, powerful, and top-of-the-line computer.
Investing the remainder of your financial resources in your education is better than making an expensive purchase. A lot of experience has shown that those individuals who aren't actively working on their trade are typically the ones who are obsessed with trading computers. If you need assistance with what to do, choose something and run with it. After you have made enough money, you can always treat yourself to that high-end computer.
When using TradingView or any other trading platform, it's important to utilize machinery that supports the activity. Take your time when choosing to invest in a new computer.