Do you want to start selling or buying on Mercari, but a worry in your mind prevents you from doing so? Is Mercari legit and safe? If that's the case, you've come to the correct place.
You are not always safe while shopping online in the modern world. So, before you choose any platform, you must first determine whether it is legitimate, safe, and reputable, how does Mercari work for buyers, how does shipping work on Mercari? how much does Mercari take, as well as how you can avoid getting scammed.
What is Mercari?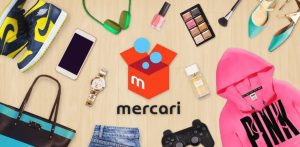 Mercari is an online marketplace that allows you to buy and sell online nearly anything that can be sent.
This online selling app distinguishes itself by prohibiting in-person meetings and requires merchants to mail products to purchasers. Mercari also handles all payments, ensuring that neither party is taken advantage of.
To guarantee that all parties are fully informed during each transaction, the platform incorporates identification verification and reviews. Mercari takes a flat 10% commission on all sales. Other fees may apply, but I'll go into more detail about that later.
Mercari is completely transparent about all of its costs, and it displays you how much money you'll make from your sale site upfront. Mercari is your marketplace.
How to sell on Mercari?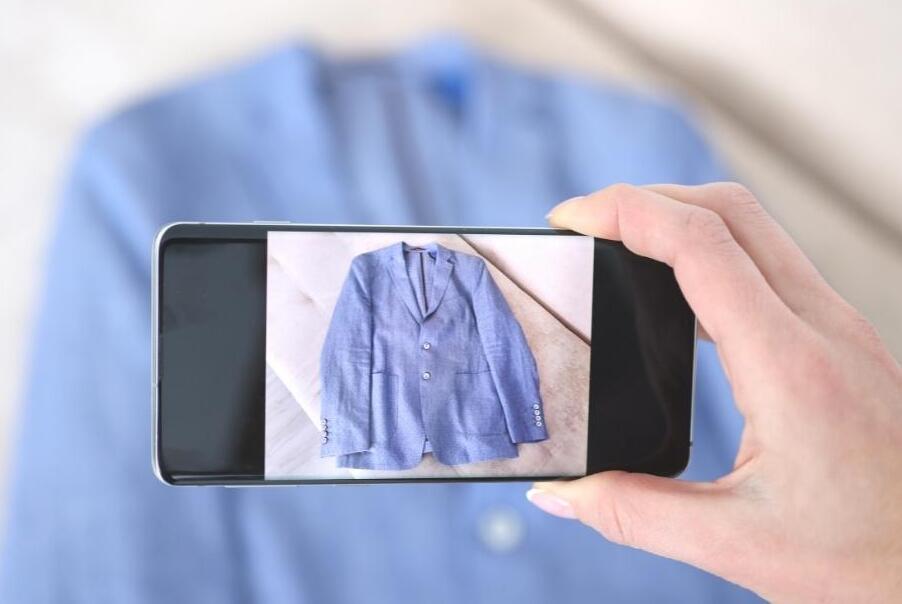 Mercari how to sell? To gather her top advice for secondhand sellers on Mercari selling apps, we went straight to digital and broadcast journalist Anna De Souza, a fashion and beauty lifestyle specialist who also works as Mercari's Chief Stylist. They are important points for How Does Selling on Mercari Work :
What to sell?
You'd be surprised at what you can sell on the internet. Another person's trash is another person's treasure. In fact, products in fair or bad condition sell faster on Mercari selling app than brand-new items. And, on average, it takes roughly three minutes for Mercari users to create a listing. So jump in!
When to sell?
It's usually preferable to sell in-season merchandise, so don't sell swimsuits in January. Seasonal shopping peaks, such as Black Friday or back-to-school, are excellent opportunities to sell. The months following those high peaks, though, may be just as rewarding for second-hand goods sellers—think of them as retail binge hangovers.
Where to sell?
Depending on the size, worth, or rarity of the item, several marketplaces are used. Do you think you'll be able to find a local buyer, or do you wish to appeal to a wider audience? Are you willing to meet a stranger to exchange the item in return for payment? Everything on Mercari sellers ships anywhere in the United States, and there are no meetups. Mercari seller fees is around 10% of listing prices and processing fees is $0.30+2.9%. Additional mercari fees is $2.
Help buyers picture it
Depending on the size, worth, or rarity of the item, several marketplaces are used. Do you think you'll be able to find a local buyer, or do you wish to appeal to a wider audience? Are you willing to meet a stranger to exchange the item in return for payment? Everything on Mercari ships anywhere in the United States, and there are no meetups.
What do you have here?
Your listing doesn't have to belong, but it should include the kinds of information you'd want if you were a possible buyer. What is the size like if it's clothing? How much memory does it have if it's a smartphone? Don't let critical information slip between the cracks, or you'll lose customers (including any imperfections). Brands and product names really matter in search!
Tell a story!
Is it just a red woolen sweater for guys in size XL? Is it Uncle Bobby's iconic "Frank Sinatra sweater," which has been seen at holiday parties every year since 1994? If your item has a backstory, tell us about it! Your ad will stand out among the crowd.
Price it to sell
New sellers frequently make the mistake of overpricing an item. You certainly want to make as much money as possible. However, spend a few moments to figure out what individuals are willing to pay in the actual world. Try looking for things similar to yours on Mercari; you'll see current listings and asking prices, as well as sold items with their final sale price.
Make shipping simple
Listings that include shipping as part of the sale price sell faster than those that require the buyer to pay separately. For easy and economical shipping, Mercari has partnered with USPS, FedEx, and UPS.
Get paid
Marketplaces have different payment and processing periods (and many have you do an in-person handoff). Mercari is the only marketplace that pays vendors in a matter of minutes rather than five days as Instant Pay does.
Follow up
A quick check-in is appreciated by all. When you receive notification that your buyer has received your goods, write them a quick letter thanking them for their purchase and asking if they have any questions.
Is Mercari legit?
Do you want to start selling or buying on Mercari, but fear in your mind prevents you from doing so? Is Mercari legit and safe?
You are not always safe while shopping online in the modern world. So, before you choose any platform, you must first determine whether it is legitimate, safe, and reputable, as well as how you can avoid being scammed.
Mercari is a completely legitimate and trustworthy online marketplace. Because both the sellers and the buyers are real people and not retailers, there is no guarantee that the people buying and selling on it are genuine.
When dealing, you must be confident in both the vendor and the buyer. Although Mercari is a legitimate website, this does not guarantee your safety.
How did people get scammed on Mercari?
Other online businesses, like Mercari, are susceptible to a variety of scams, but if you understand how scammers operate, you can avoid becoming a victim.
Scammers frequently use a seller profile that is new or has no reviews, and they include an incredible price for the item. And, given that Mercari does not release funds until the buyer has the item, you're probably asking how they were duped.
Actually, if you're buying something on Mercari, the vendor may invite you to contact him/her by another site, such as Facebook, WhatsApp, or a phone number.
And, if you do business outside of Mercari, you're likely to be taken advantage of by the seller.
Dealing with people outside of Mercari is also against their rules, and they make it clear that they are not responsible for it. So never deal outside Mercari whether you're a buyer or a seller.
How to avoid getting scammed on Mercari?
It's critical to thoroughly study not only what you're buying but also who you're buying it from on any online marketplace.
Many cases of fraud occur when sellers and purchasers are unaware of the warning indicators to look for before engaging in business. Here's how to prevent getting scammed on Mercari when buying and selling, and perhaps notice any potential scams before it's too late:
Do not conduct business outside of the online sell app – If you conduct business outside of their platform, your transaction will not be safeguarded by them, putting you at risk.
Never give out your personal contact information – such as your phone number, email address, or social media account, to anyone.
Make a strong password — Use a strong password on all platforms, not just Mercari, and change it frequently.
Be wary – Before purchasing a product, make sure to read the reviews and description.
Don't disclose login information — Don't give out your Mercari account password to anyone, including third-party websites.
Order must be confirmed within 3 days – You have three days from the time you get an item to determine whether it is damaged or as advertised.
Confirm order within 3 days – You have three days from the time you get an item to confirm if it is damaged or as advertised. You have three days from the delivery date to seek a return if there is an issue with the item.
Do not sell forbidden things – If you sell sites prohibited items, your account will be suspended and your transactions will be canceled.
Use a credit card instead of a debit card – The potential of fraud is always present. While using a debit card isn't a problem, credit cards frequently come with additional protections for online purchases.
So these are some of the important points you should keep in mind to avoid getting scammed.
Tips for buying safely on Mercari
There are a few things you should know before starting your Mercari shopping spree, but these are the most important to ensure a secure purchase.
Don't ignore reviews
You will be in danger if you order products without first reading their reviews. Before purchasing or even contacting a seller, the best method to ensure that you are buying products safely on Mercari is to complete your homework. Look for the following things:
Look for any unfavorable feedback.
Photos of the merchandise that the seller has uploaded.
Check to see if the photographs were captured from all angles.
Watch out for misleading descriptions
One of the concerns with Mercari is that some merchants offer photographs and descriptions that are false or ambiguous. Product descriptions are not always accurate, and photographs can make things appear better than they are.
In this instance, it's best to read the product descriptions carefully and purchase the products you want.
If the price sounds too good to be true, it probably is
As previously stated, if you see a product with a very low price that you can't find anywhere else, it's most likely a hoax.
You'll undoubtedly discover the greatest prices, but if you see a drone for $35, it's almost certainly a fraud or a counterfeit product.
Check your order carefully when you receive it
Mercari does not transfer your cash to the seller until you have received and verified your order, as we all know. Buyers have three days to confirm the order and rate the vendor if it is the same item as stated.
Make sure everything is there and that it appears exactly like what you ordered, and that it isn't a forgery. If it isn't, you have three days from the date of delivery to seek a refund; if you don't, all sales are final.
If you are happy with your order, please give the seller a rating so that he or she can receive payment.
Tips for selling safely on Mercari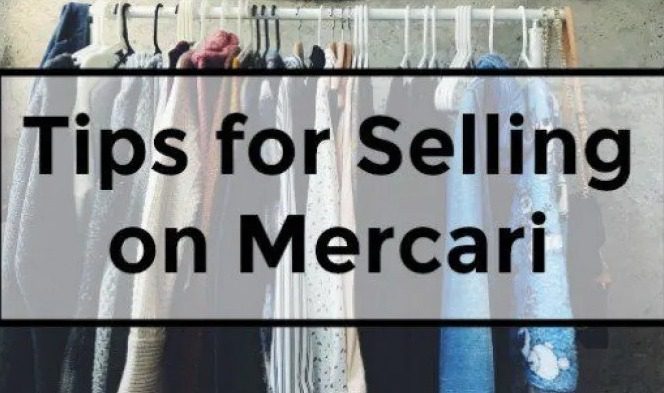 Selling items on Mercari may appear straightforward, but selling them properly requires caution, thus following recommendations can assist you in selling your items safely.
Do not sell prohibited items
If you're going to sell your stuff on Mercari, never sell anything that's on the Prohibited Items list.
Whenever a seller lists a restricted item, it is a violation of their Terms of Service, whether the seller did it on purpose or not.
If Mercari concludes that a listing is in violation, the seller's listing will be removed and any linked transactions will be canceled, and the seller's account would most likely be suspended or terminated.
Shipping protection (package carefully)
Once you get a sale then your main priority is going to be shipping the product to a buyer but there is some information you need to keep in mind before shipping the item.
Here are some points you need to know:
The seller must dispatch the item within three business days of receiving payment.
To complete the purchase, provide a valid tracking number for the item you're shipping.
Even if the item has been shipped, Mercari cannot be held liable for orders without a valid tracking number, and your transaction may be canceled.
So that the things don't get destroyed, carefully package them.
Never give an ambiguous or false description of the thing you're selling.
You can use a Mercari prepaid label to transport your order, but if it weighs more than 150 pounds, you'll have to ship it yourself.
All of the things you're shipping must not be on Mercari's list of forbidden items.
So finally, you have shipped the item. The next step is to go to the Order Status page and click "I've shipped it" and inform your buyer as well.
These are some of the most important points about shipping you have to keep in mind.
Ensure your product listings are accurate
Some customers desire to purchase a product, but when they receive it, they are dissatisfied and want to return it. The buyer, on the other hand, cannot just return the goods without a valid reason, such as broken items, misleading descriptions, or incorrect photos.
In that scenario, it's up to you to double-check that all of the information on your listings is correct. Perhaps the buyer will file a dispute against you so that you can show your point.
Keep all the shipment and delivery details handy
As previously stated, the seller must offer a genuine tracking number in the event that a buyer claims they have not received an item. If this occurs, the seller will be able to demonstrate that the item was sent and delivered to the buyer's address.
Mercari prohibited items
You could face serious consequences if you sell any of Mercari's banned products.
Discover this essential list of things to prevent being penalized by Mercari and having to sell them on their marketplace.
Here is the list of products you can't sell on Mercari with examples:
Anything illegal such as drugs
FDA restricted such as foods
Counterfeit goods such as listings of non-brands
Weapons such as firearms or parts
Digital items such as e-books
Alcohol and Tobacco such as cigarettes
Identity theft such as user login information
Age-restricted products such as license
Gambling such as mystery purchases
Financial items such as insurance
Animals such as dog
Human body parts such as blood
Pornographic material such as sex toys
The things that are not yours such as dropshipping
Safety hazard
A computer virus, malware type items
Mercari prohibits the sale of these things, therefore don't sell them. If someone is selling these things, Mercari has the authority to penalize them by canceling their listings, removing their listing rights, terminating or suspending their account.
Pros and cons of Mercari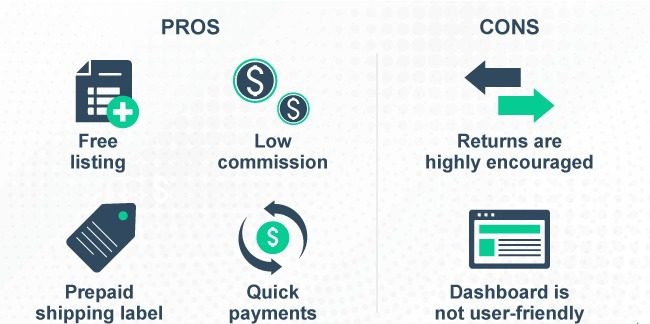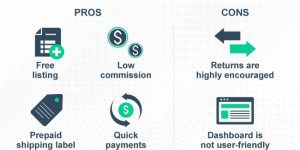 Here are the main pros and cons of Mercari that we think you can expect to encounter if using this marketplace.
Mercari pros
 Listing is free
Unlike eBay and other online e-commerce marketplaces, Mercari allows you to list your things for free.
Fairly priced
It's a marketplace for old or used things that the seller no longer needs, so you'll be able to purchase them for a reasonable price and save money.
 Low selling fees
The fees are reasonable; once a deal is completed, Mercari charges a flat 10% selling fee.
The shipping process is easy
The fact that sending things to your buyers is simple is a significant benefit.
Communicate before buying
You may want more information about the thing you're going to buy at some point, and you may easily interact with the seller via chat.
Listing items are so easy
Another advantage is that you may easily and rapidly list the products in just a few minutes.
Handle your business through your phone
You can accomplish almost everything with your phone, which is a great benefit.
Mercari cons
Lower end items aren't worth
Mercari isn't a good location to sell low-cost things like ($1 to $15) because you have to pay a 10% charge to Mercari and then postage, which isn't worth it even if the customer pays for shipping.
Inactive sellers
Some sellers must be active; otherwise, a buyer will not receive a response to their listing.
Not get paid until buyer rates
As a seller, you won't get paid until the buyer gives you a rating, but as a buyer, this is a benefit.
Is Mercari safe and legitimate?
Mercari offers a safe and reliable marketplace. However, it shares the same security flaws like many other online shopping platforms. Because only people who have completed transactions may see Mercari's rating system, the reviews may be slightly more reliable than those on other platforms.
If you have any problems, please contact Mercari customer support via the form at the bottom of this page or call 1-888-325-2168. (Monday-Friday, 9 a.m.-5 p.m. PT).
When I called customer service, I got a recording telling me to leave a brief description of why I was calling, as well as my name, email address, and item ID. The recording then stated that a member of the Mercari team would contact me.
Mercari review
If you're looking for a great way to get rid of stuff you don't need anymore, or to find good deals on used item sale, then Mercari is the app for you! It's like an online garage sale, and it's super easy to use. Just download the app, take some pictures of the things you want to sell, add a description, and set your price. Then just wait for someone to buy it! Mercari takes a 10% commission on each sale, but other than that, there are no fees. Shipping is also really easy – just print out a label from the app and drop it off at your nearest post office.
Mercari sign in
If you're looking to sign in to your Mercari account, simply enter your email address and password into the sign in form on the Mercari website. If you don't have an account yet, you can create one for free by clicking on the "Sign up" button for mercari. Once you're signed in, you'll be able to access all of Mercari's features, including buying and selling items, messaging other users, and more. Thanks for choosing Mercari!
Mercari log in
If you're looking to log in to your Mercari account, there are a few things you'll need to do. First, make sure that you have the correct login information handy – this includes your username and password. If you don't have this information, you can retrieve it by clicking on the "Forgot Password" link.
Conclusion
We hope that this article has answered all your queries pertaining to Mercari such as "Is Mercari a legit site?" and "Is Mercari safe?" as well as many other questions. In a few words, whether you're a buyer or a seller, you'll need to conduct due diligence before making a transaction and closely monitor all of your dealings to avoid any unpleasant surprises.
So, ideally, after reading this article, you now have the knowledge necessary about Mercari that includes but is not limited to pros and cons of Mercari, how to sell and/or buy on Mercari, the items prohibited by Mercari for putting up for sale on it and whether or not you should be using it.